At A4A Music, we're always looking to expand our talented community of volunteer Mixing and Mastering Engineers.
Here's what some of the Afora remixers had to say about the Healing in Harmony Remix Vol. 1 project and what it's meant to them to be involved, helping to amplify the voices of marginalized artists around the world.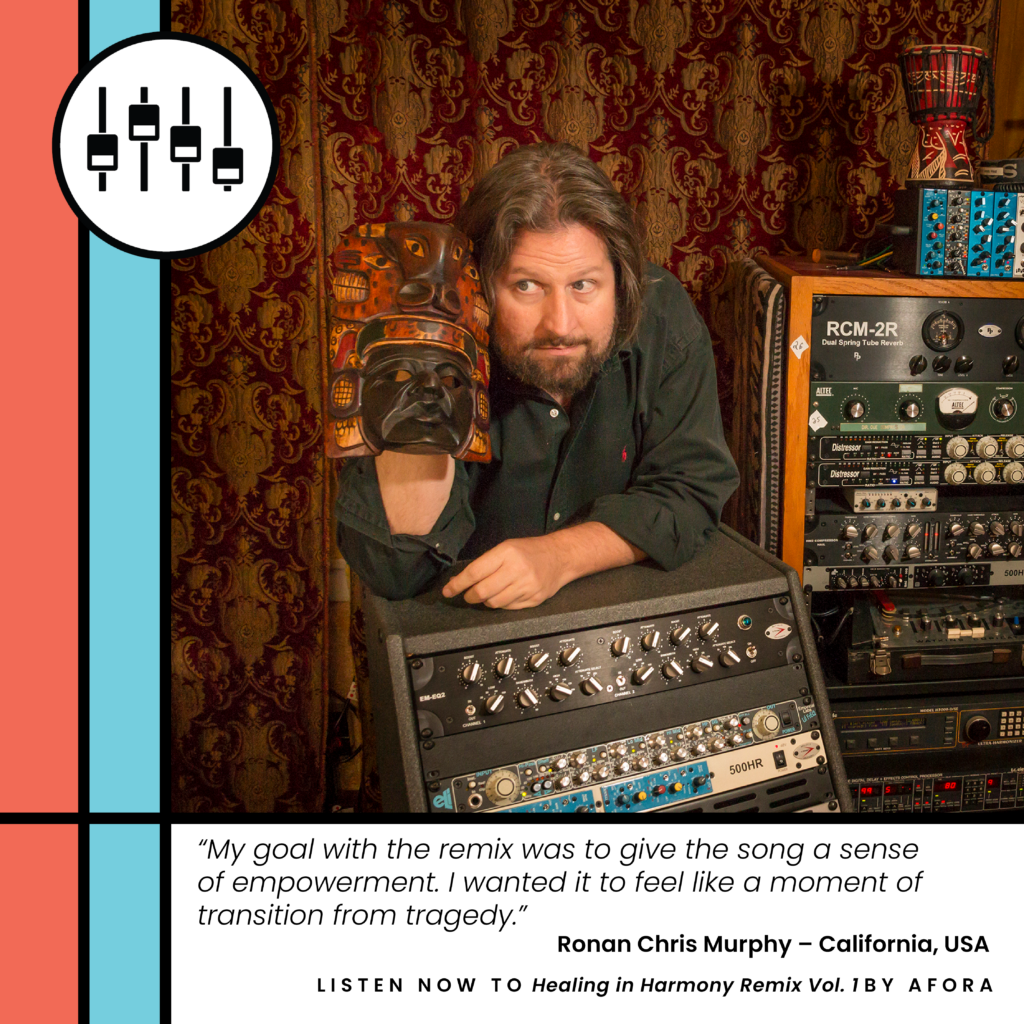 Ronan Chris Murphy – Pine Mountain Club, CA. USA
Ronan Chris Murphy is a multi-genre record producer and engineer that works around the world. He recently mastered the score album for Jordan Peele's hit film "Get Out". He works in studios around the world as well as his own studio, Veneto West, just outside of Los Angeles.
"I am not super rich, but I have a blessed life. My partner and I always try and dedicate about 10-20% of our energy to charitable projects ever year. MMM is a way to do help that is both fun and creatively fulfilling. While remixing the track, Mauwaji, it was an honor to be a part of these women's journey and to perhaps help in some small way".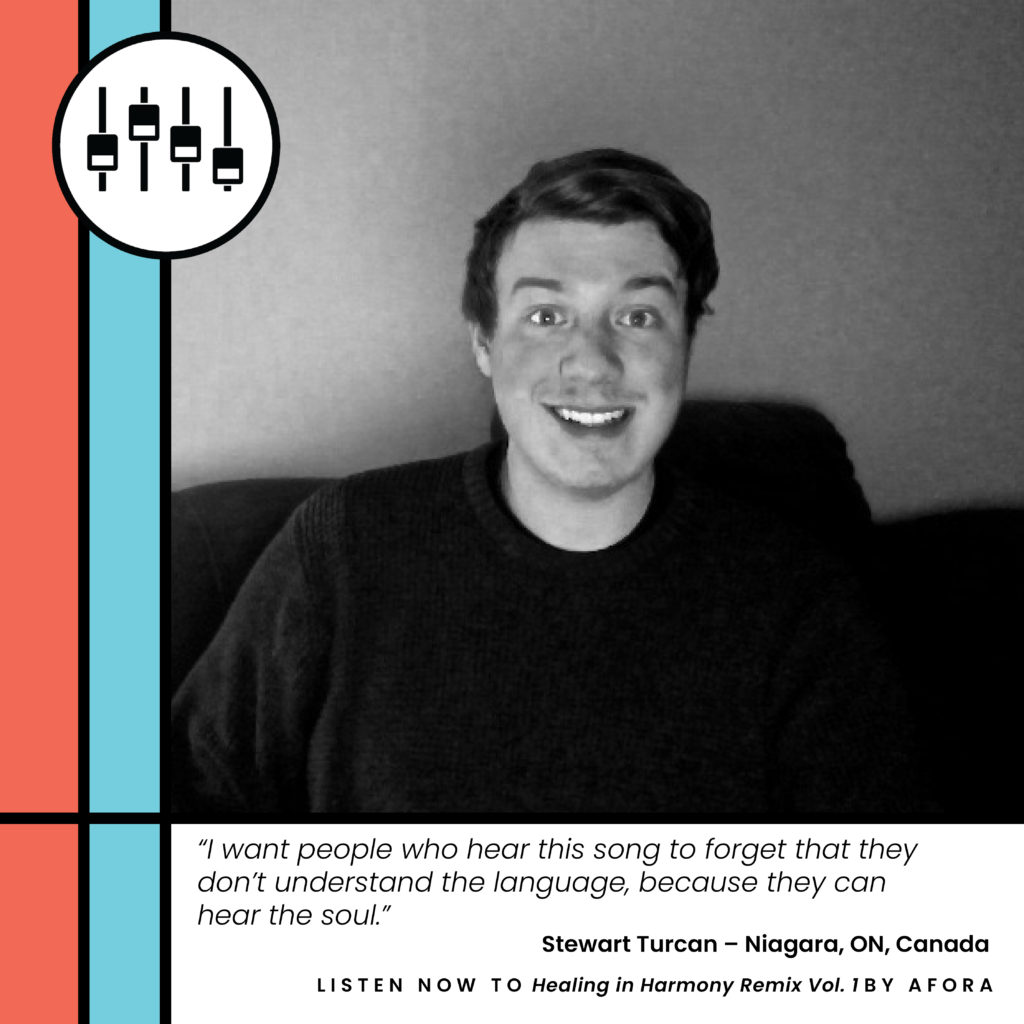 Stewart Turcan – Niagara, ON. Canada
With 10 years honing his craft in songwriting and audio engineering, Stewart has worked on a variety of collaborative and personal works that range from single song releases, 5 track EPs to full length album releases in which his skills as an engineer and musician can be heard.
"I have learned so much working with MMM and A4A because I'm stepping outside my comfort zone and challenging myself to always be better. The simple yet amazing utilization of technology has made it possible for artists like myself and artists abroad to connect and collaborate. This project has brought artists together that would never have the opportunity had it not been for Make Music Matter and Artists For Artists. This kind of stuff does not happen without them".
Nino D. Celella – Squamish, BC. Canada
Nino D. Celella is the Senior Engineer at Sound & Soul Studios, based in Squamish, British Columbia. The studio offers media production and media integration services for sound projects of all sizes.
"I've been graced with the resources and skills to give back on something like this. The joint effort of a larger team goes so much further and I'm thrilled to take part. When it comes down to it we can all give back in different forms, for me music is an important outlet".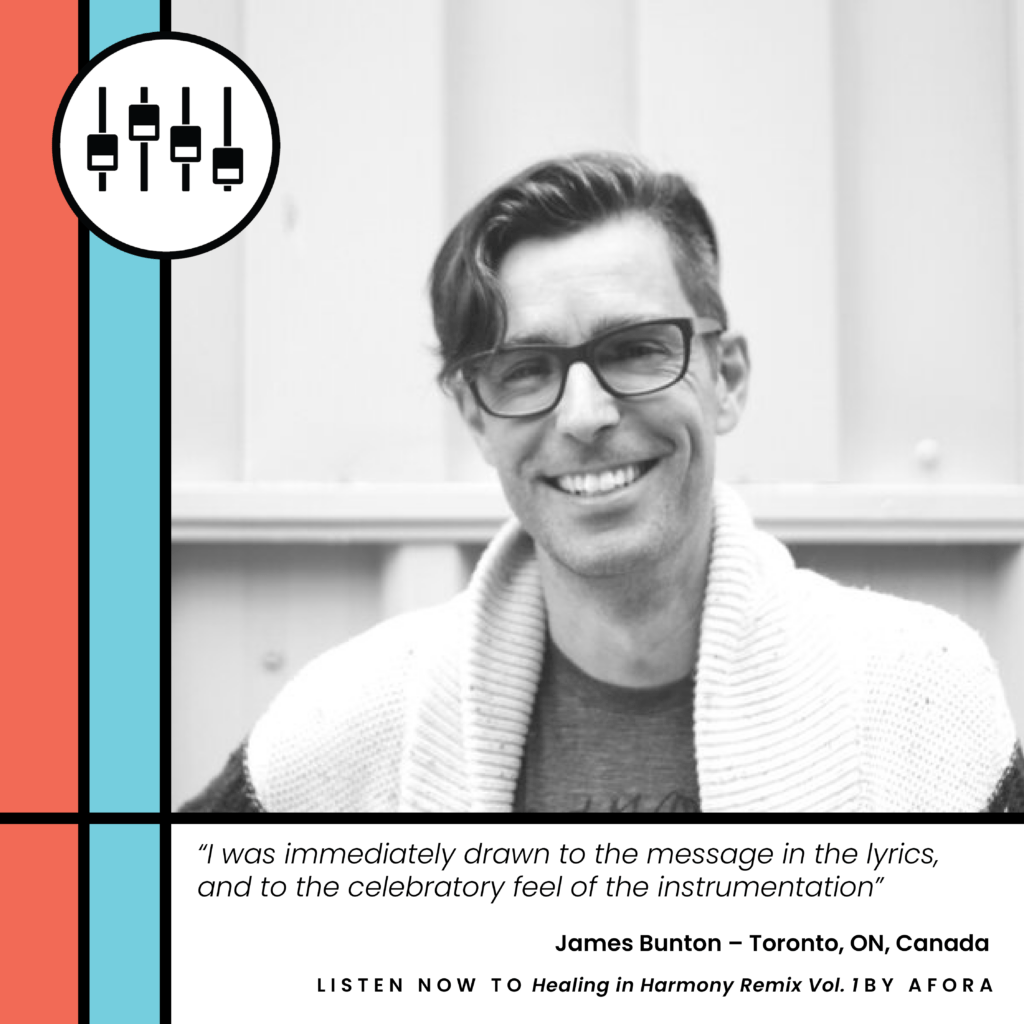 James Bunton – Toronto, ON. Canada
James Bunton is an independent producer / mixer and multiple Dora Award winning sound designer / composer. Recent credits include audio production and mixing on works by Donovan Woods, Vivek Shraya, For Esmé, Ansley Simpson, Too Attached, Evening Hymns, Leanne Simpson, KASHKA, and on the Friends In Bellwoods and SLOW Volumes compilations.
(On Mwanga Mkononi) "The lyrical content of this song is incredible. The resolve to stay strong in the face of very real fears and people who are out to case harm is very inspiring. To remember the power of one's own light in the face of that darkness is a very empowering sentiment, and to work on a song like this and do what I can to reinforce and amplify that message would be a privilege."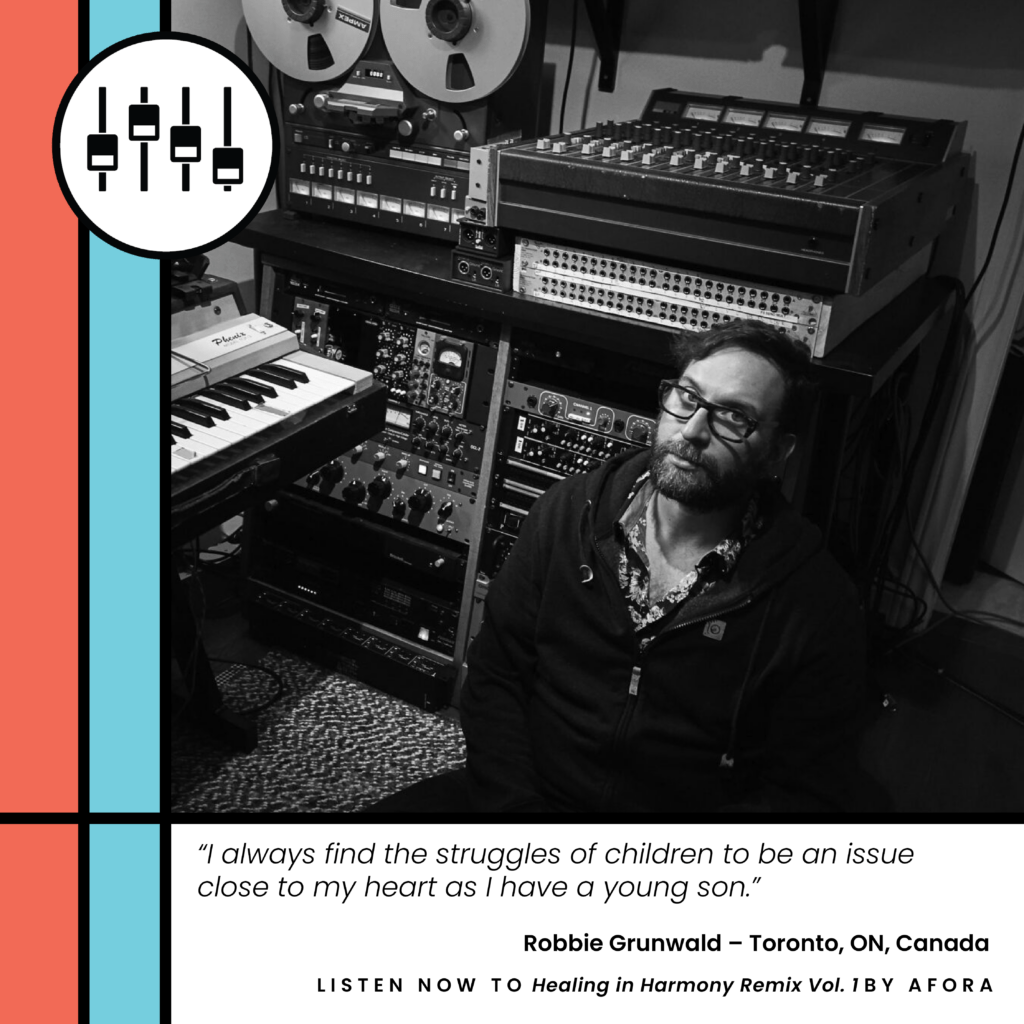 R. Grunwald – Toronto, ON. Canada
Based in Toronto, R. Grunwald has performed across North America, Europe, Australia, and Asia with a diverse array of projects including Donovan Woods, Jill Barber, DoubleTooth, Doug Paisley, the Good Lovelies, and David Myles. He has been working with A4A over the last 4 years and is honoured to participate in the work that we are doing.
"When I saw some of the other names of the people involved with this organization it sealed the deal. Some of the biggest names in music are working together here to help so many people survive and get through such difficult times. This is a community I want to be a part of".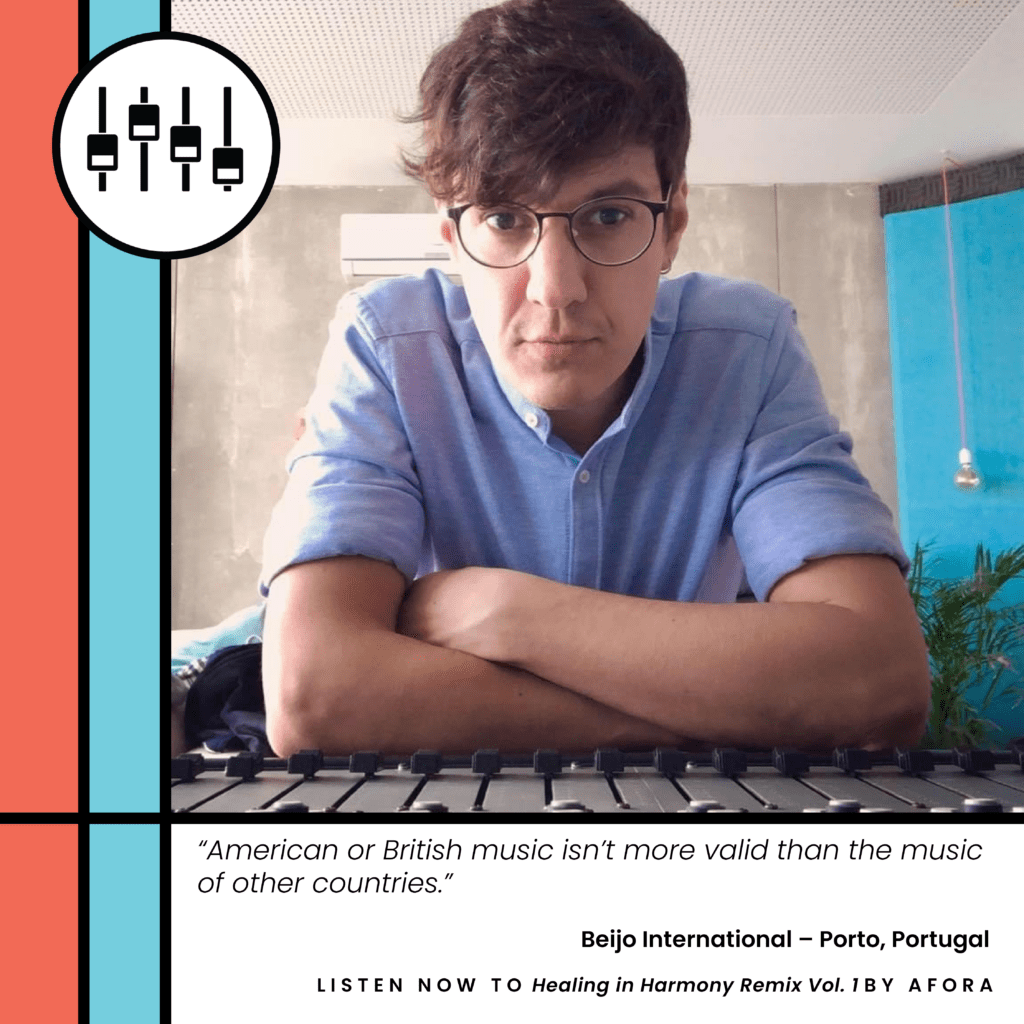 Beijo International – Porto, Portugal
Beijo International (aka João Moreira) has produced, recorded, mixed and/or mastered with Sensible Soccers, Máquina del Amor, La La La Ressonance, White Haus, Peixe:Avião, Gonçalo, Aníbal Zola, Evols, Ditch Days, Cavalheiro, José Valente, among others. The Matokeo Ya Vita remix is his first partnership with A4A Music.
"Be aware that American or British music isn't more valid than the music of other countries. They are only 2 dominant industries. After many years locked in that binomial, you will discover and learn much more outside of it".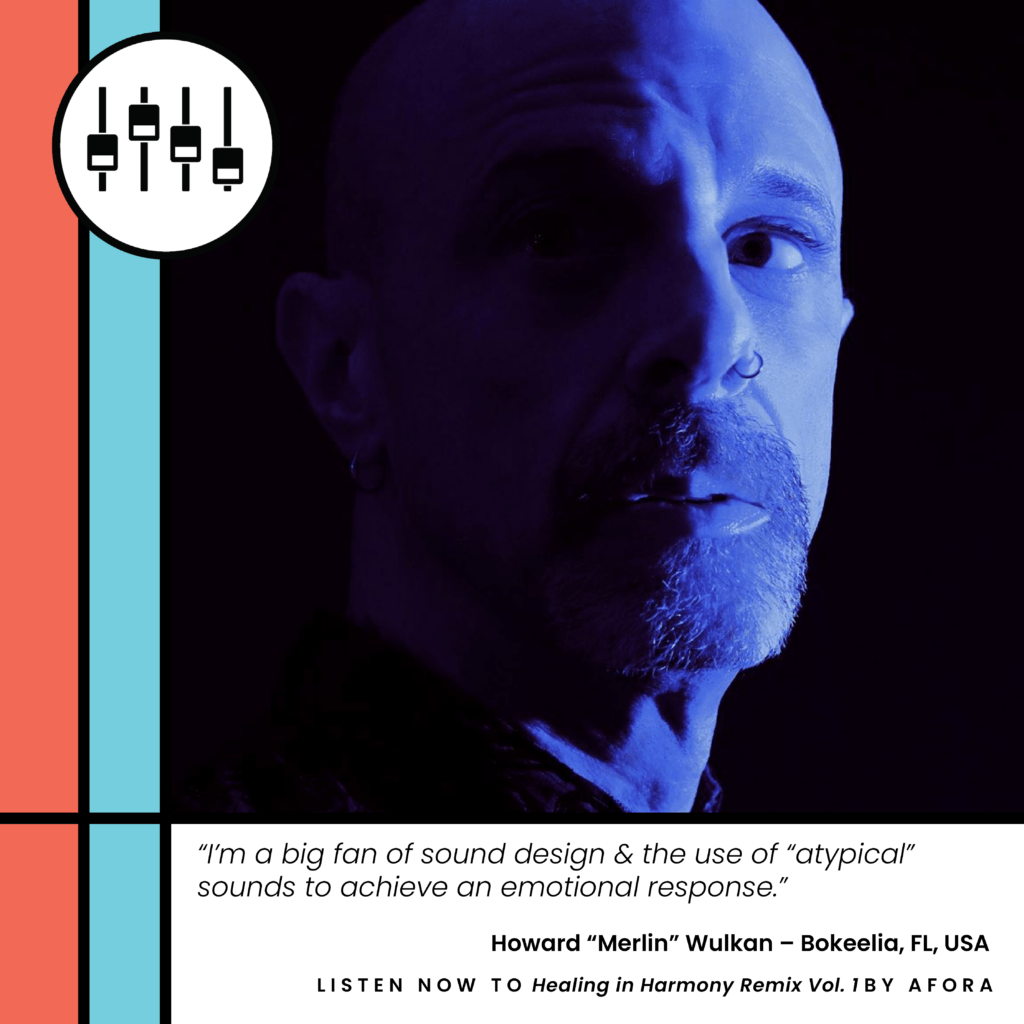 Howard "Merlin" Wulkan – Bokeelia, FL. USA
Howard "Merlin" Wulkan is a producer, engineer, and composer at the Florida-based recording studio, Farmadelica sound.
"I enjoy breaking down a track to its core components in order to "rebuild" the track from scratch. I'm a big fan of sound design & the use of "atypical" sounds to achieve an emotional response".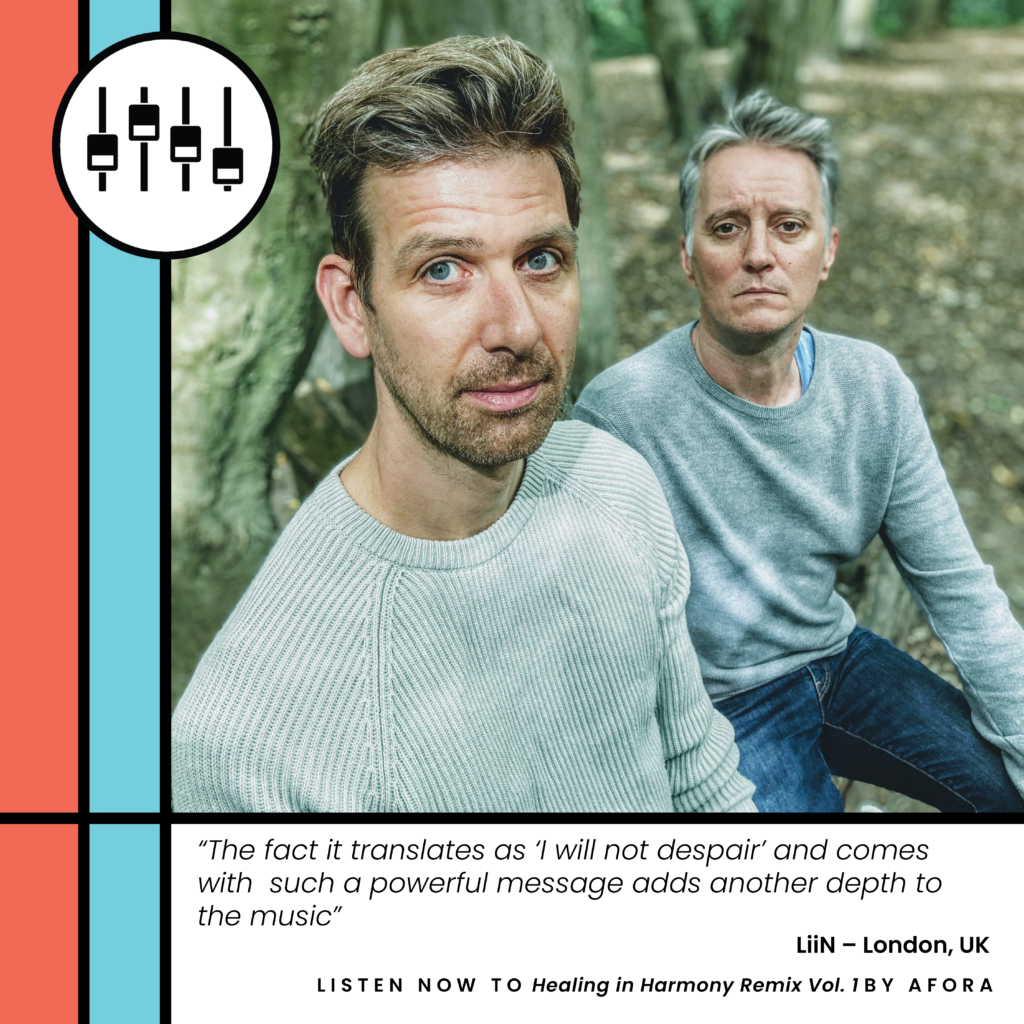 LiiN – London, UK
Electronic production duo Neil Simons and Mal R have released a steady stream of tracks under the LiiN moniker since 2016, channelling and referencing the energy of electronic music's innovators along with time honoured traditional songwriting. Film score, theatre, pop music, club beats and the analogue and digital mediums in which they work influence their output.
(Mal R. on 'Sirudi Nyuma') "'I was drawn to this track primarily for the vocals and the way it combined a strong melody with a solid rhythm. The fact it translates as "I will not despair' and comes with such a powerful message adds another depth to the music".
---
---
Interested in joining our Community of Mixing and Mastering Engineers?
Looking for other ways to get involved? Contact us here.
---
---
Tracklisting for Healing in Harmony, Remix Vol. 1
Soma ('Education') – James Bunton Remix
Nita Jipa Raha ('I Make My Own Happiness') – Nino D. Celella Remix
Sirudi Nyuma ('I Will Not Despair') – LiiN Remix
Kazi ('Work') – Robbie Grunwald Remix
Je dois rester forte ('I Must Stay Strong') – Dan Harden Remix
Lanes of Bee Wax – Howard "Merlin" Wulkan Remix
Peace Is Love – Stewart Turcan Remix
Mon corps n'est pas une arme ('My Body is Not a Weapon') – Verny Scholtz Remix
Mauwaji ('Massacre') – Ronan Chris Murphy Remix
Matokeo Ya Vita ('Consequences of War') – Beijo International Remix
Njo Tu Maisha ('This is Life') – Kevin Doyle Remix
Mwanga Mkononi ('The Light in the Hand') – Nick Page Remix
Il y a encore de l'espoir ('There is Still Hope') – Georges Mupemba Remix
Nsiga Amavuta ('Oil') – Filho Da Terra Remix
Mastered by Emily Lazar, The Lodge