Just one year following the release of the widely celebrated Healing in Harmony: Greatest Hits Vol. 1, Make Music Matter and A4A Music are proud to debut the follow-up album, Healing in Harmony: Greatest Hits Vol. 2. Special thanks to the team at Warner Music Canada and Precision Record Pressing for their manufacturing and distribution support.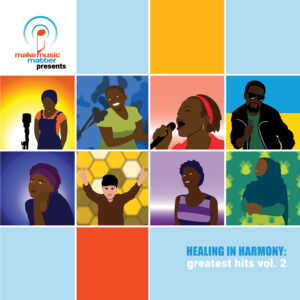 Healing in Harmony: Greatest Hits Vol. 2, released December 18th, 2020, features a compilation of recordings from A4A's roster of artists who have emerged from  Make Music Matter's innovative music therapy program, Healing in Harmony. The artists hail from six sites in the Democratic Republic of Congo, Rwanda, South Africa, Uganda, Guinea, and Turkey.
The Healing in Harmony program offers a unique brand of music therapy for survivors of sexual violence and other traumas. By writing, recording and professionally producing songs about their emotions and experiences, participants are simultaneously empowered through group therapy and musical artistry to take control of their personal narrative.
Listen on your preferred platform, check out the YouTube playlist, or buy a physical copy on vinyl!
A4A's community of mixing and mastering engineers from around the world have donated their skills and time to produce the songs generated from the Healing in Harmony program. The process of creating this album represents a truly global unification of the music industry.
We appreciate your continued support for our initiative to empower marginalized artists, everywhere. Donations to Make Music Matter's Healing in Harmony program can always be made on their Canada Helps campaign page. – or via the December 2020 #TogetherWeGroove campaign – where you can get a signed copy of this vinyl (see more here).